---
NEW!!!
2TG Engine Gasket Kit




1. 2T-G Valve Cover Gasket, 1 Rubber Cork mixture type


2. 2T-G Tappet Circular 2, 2 Half moon rubber seal




3. 2T-G Head Front Cover G/K 1, 6 Bolt Type




4. 2T-GEU Head Front Cover G/K 1, 2 Bolt Type




5. 2T-G Valve Oil Seal (8)




6. 2T-G Thermo Housing G/K




7. 2T-G Thermostat G/K




8. 2T-G Tensioner G/K




9. 2T-G Water Pump




10. 2T-G Block Blowby G/K




11. 2T-G Fuel Pump Hold G/K




12. 2T-G Block Front Cover G/K 1, 1 Right and Left SET




13. 2T-G Rear Oil Seal Retainers G/K




14. 2T-G Crank Oil Seal (Front)




15. 2T-G Crank Oil Seal (Rear)




16. 2T-G Oil Pan Gasket, 1 Rubber Cork mixture type




2T-G (TE27, TA20, TA22, Carburetor)
*Includes No. 1~16, but not No.4

Price $357.50

2T-GEU (TE71, TA45, Fuel Injection)
*Includes No. 1~16, but not No.3 or No.10

Price
$357.50
-------------------------------------------------


NEW!!!

2TG Gaskets Available Sold Separate.

2TG Intake Manifold Set $49.98

2TG Exhaust Manifold Gasket $64.10

2TG Exhaust Pipe Flange Gasket $8.50

2TG OEM Type Replacement Head Gasket $215.00

2TG Exhaust Pipe to Manifold Seal $42.37

2TG Valve Cover Gasket $40.00

2TG Oil Pan Gasket $37.38

2T-G Head Front Cover, 6 Bolt Type $15.87

2T-G Block Front Timing Cover, 1 Right and Left Set $26.00

2T-G Block Blowby gasket $9.50

2T-G Fuel Pump Mount Gasket $7.50

2T-G Rubber O Ring Kit (comes with 3) $10.50

2T-G Rear Main (Crank) Seal Kit (comes with gasket and rear main seal) $36.50

2T-G Water Pump Gasket $9.50

2T-G Crank Oil Seal (Front) $16.50

2T-G Thermostat Gasket $6.50


---
NEW!!!
2TG Engine Water Pumps



2T-G Water Pump
$169.00
For TE27, 47. TA22, 27 Chassis.
2T-GEU
Water Pump
$153.00
For TE51, 71 Chassis.
---
NEW!!!
2TG Racing Radiator for Corolla 1971-74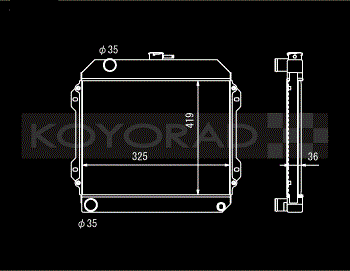 Note: fits TE27, TE21, TE28 chassis 1.6L (2TC and 2TG engines).

Price $298.54


---
2TG Engine Mounts
OEM type





2TG Engine Mount.

Price

$46.50 each.


---

2TG High Performance Engine Bearing Set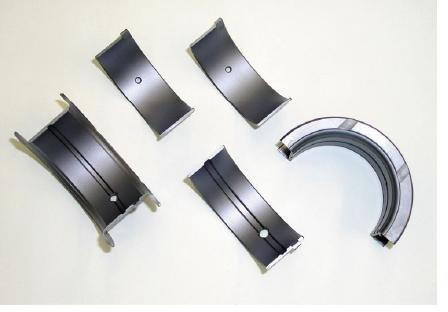 Bearings below fit 2TG, 2TB, 2T and T engines
High Performance Engine Bearing Set comes with main bearings, connecting rod and trust washer bearings (the trust bearing is separate, not part of the main bearing) $717.15



Ultra race spec High Performance F770 Metal Bearings with WPC Treatment for friction reduction. Highly recommended for high performance and racing engines.
"WPC" Molybdenum bearings have a low coefficient of friction, reduce the rotational torque, which also enables the bearing to last longer and hold up to higher pressures.

Over Sizes Available 0.25, 0.50, 0.75, 1.00 Let us know what you require.
----------------------------------------------------------------------------------------------------------------------------
NEW!!!

2TG OEM Type Replacement Engine Bearing Set

Price $225.00



---

2TG High Performance Alternator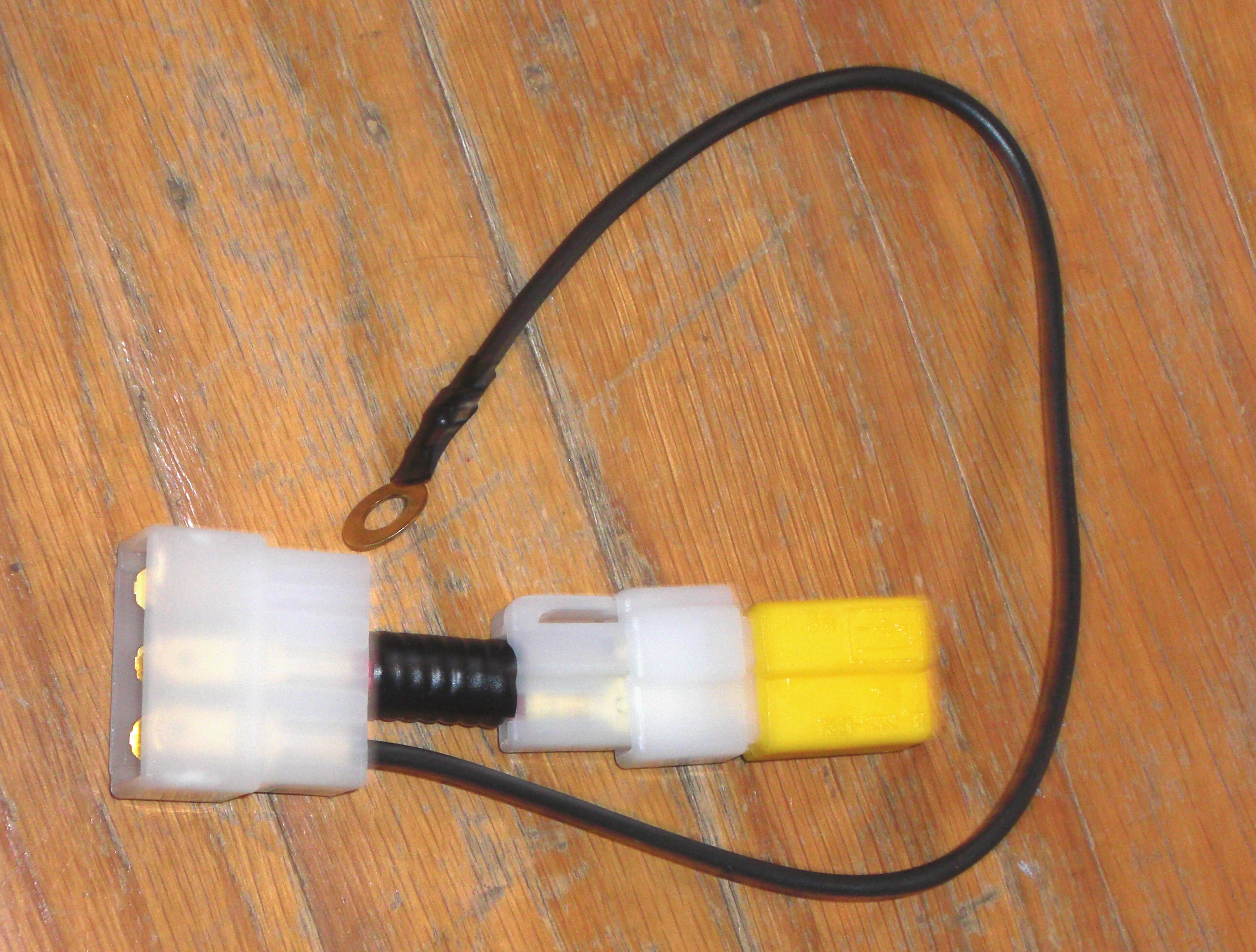 More performance power for your ignition and accessories.
Comes with special adapter harness as shown in picture above.
These alternators have internal regulators.


80 amp

Price

$481.00

NEW!!! 90 amp

Price

$756.25


--------------------------------------------------
NEW!!!

Standard Replacement Alternator $377.68

Voltage: 14 V, Alternator Charge Current: 50 amp
---
2TG Heavy Duty Engine Starter
1.0 kw


New Lower Price!!!
$315.66
USD
---
2TG, 3TG Oil Pump and NEW! High Volume Kit


Standard OEM type replacement oil pump. Price
$171.60 USD
NEW! High Volume Oil Pump Kit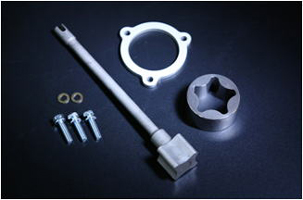 Increase volume by 30% just by replacing the internal components of the factory oil pump gear with the Oil Pump Upgrade.
Ensures steady oil supply even under harsh racing conditions.

Price
$586.30 USD
---

2TG Exhaust Header / Manifold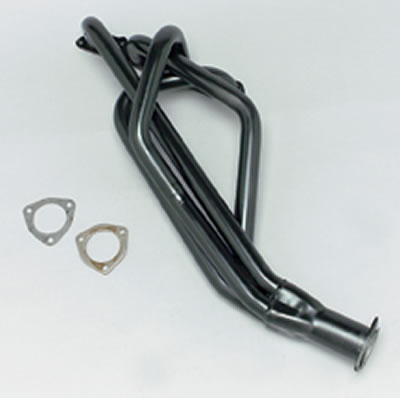 Click to Enlarge
2TG Header
, 1-1/2 in. primary tubes, 2-1/2 in. collector, steel, black finish, No smog or engine management hookups
Price
$245.06
---

New!!! 2TG High Performance Racing Header (For Right Hand Drive Cars Only)
This header's special characteristics are in the design and calculations of the piping length and collector, to bring out the best in the 2TG motor.
Precision machining was used in making the collector chamber where the 4 runners meet.
This header will bring out the full potential of the 2TG motor by increasing the torque in the mid and top end.
For track or street. High quality craftsmanship, made by hand of high-grade stainless steel.
NEW LOWER PRICE!!! Stainless Steel Header
$2153.25 USD
---

NEW!!! 2TG High Performance Exhaust System for Celica TA22 and Corolla TE27
High Performance Exhaust System
features stainless steel construction and 60mm piping. Designed based on our extensive experience tuning the 2TG engines. $2,257.50
---
2TG Light Weight Lifter Set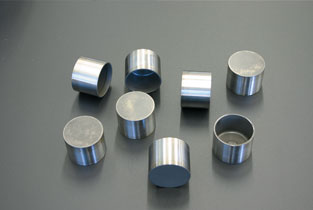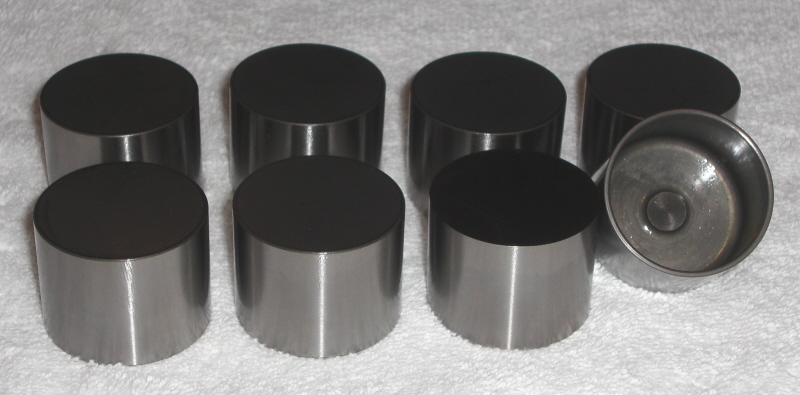 Within the cylinder head, lightweight characteristics matter most with the valve lifters. These lifters are made from the lightweight but strong SKD-11 material.
The larger outer face design creates stability, which brings out the full potential of the camshaft.
Set of 16.
Price
$704.00 USD
Manufacturing Method: Machined
Material: SKD-11
Heat Treatment: Fuel Tempering/Tuft Ride Outer Heat Treatment
Surface Heat Treatment: Inside, Shot Blast. Outer, Polished.
Hardness: HRC45 - 55
Outer Diameter: 37.945-37.955 (approximate girth)
Effective Length: 2.5mm-3.0mm (Overall Length 29mm)
Weight: 56.4g (Genuine 64g)
Clearance: 2/100 (intended approximation)
---
2TG Performance Cam Shaft Set
Available durations and lifts are:
We highly recommends the 292/11.7mm spec. Makes best overall power for tuned NA engine with good drivability and wide power band.
Price $2020.00 pair
(No core required).


----------------------


NEW!!!

2TG Cam Shaft Set. OEM Type Replacements.


Price
$886.98 pair
(No core required).


---------------------


We also offer our
Custom Cam Grind Service.
Send us your good cam cores and we ill grind them to any spec you wish.
Ground to your specification or our suggested cam profile. Service price is $480.00 for a pair.
.




---
2TG Reinforced Tappet Shims
/ Valve Caps
Available sizes 1.5mm-7.0mm,
Price
$17.20 each.
Available in 0.05mm increments only.
*The thickness of the shim at the time of shipping is within 0-0.05mm
---

2TG Bronze Valve Guide Kit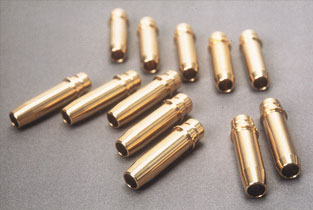 The demands of valve guides are resistance to wear and abrasion, tolerance to high temperature, and seizure.
This is only accomplished by combining two metals and precision machining of the inside of the guide. In addition these guides only allow the
minimum valve clearance so that the valves are moving properly during high RPMs. With this type, it is possible to decrease the valve clearance
by a small amount because of its efficiency at dissipating heat and resistance to sticking valves.
Price
$316.80 USD
Specification:
Size: Intake 51mm / Exhaust 51mm
Material: Phosphorus Bronze
---

2TG Big Valves


To increase flow through your 2TG cylinder beyond current limits, this valve is absolutely necessary. The highest standards have gone into completing each valve,
starting with a heavy duty metal going through a strictly quality controlled forging and then through a rigorous inspection process.
In order to stay lightweight, the valve head was made thinner and the stem was made slimmer but without compromising the design theme of "Effective, Strong, Lightweight".
To be used with stock valve keepers.
Big Intake Valves
(45mm) $70.40 per valve.
Big Exhaust Valves
(40.4mm) $70.40 per valve.
---
New!!!
2TG Valve Stem Seals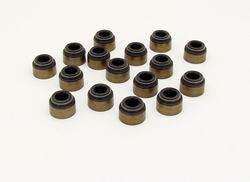 High Temperature Performance Valves Seals, OEM size.
Price
$157.50 for a set of 8.
---
2TG Valve Springs and Accessories


2TG 10,000rpm race valve springs are designed for high revving motors with high performance cams. To stop surging at higher rpms, the inner and outer springs are designed to cancel each other's vibrations by having varying spring pitches that resonate at different frequencies. This allows for higher rpms and more power.
Valve Springs
(full set) $352.00 USD
Titanium Retainers
(full set) weight 10g, (stock is 21.6g) $492.80 USD
Valve Spring Washers
(set of 16) $140.80 USD
---

NEW!!! 2TG Forged Stroker Crankshaft (79mm)


Forged 79mm (2000cc) crankshaft. Increased strength and improved high rpm operation.
Piston Bore Crankshaft Displacement
88.5mm 79mm 1943cc
89mm 79mm 1965cc
89.5mm 79mm 1988cc
Will also work with 3T connecting rods
* Please note a 1.5mm Headgasket is required when using this crankshaft.
Price $3424.00 USD
---

2TG Piston Kits
(Includes Piston Ring, Pin, Snap Ring)
This full floating type race piston has a compression ration of 11 to1. The valve recess was designed to handle high performance cams and bigger valves.
From street class to race use, the piston kit will meet your needs in any application.
2TG, 1750cc Piston Kit
Price
$1408.00
USD
Manufacturing Method Forged
Type High Comp
Bore
Available in 88.5mm and 89mm
Pin Diameter x Length 22 x 60mm
Pin Height 39mm
Piston Ring Thickness 1.5 x 1.5 x 2.8mm
Rod Type 2TG, 3TG Rods
Crankshaft 2TG
Includes Piston Ring, Pin, Snap Ring
----------------------------------------------
2TG 2000cc Piston
Price
$

1408.0

0
USD
Manufacturing Method Forged
Type High Comp
Bore
Available in 88.5mm and 89mm
Pin Diameter x Length 22 x 60mm
Pin Height 35mm
Piston Ring Thickness 1.5 x 1.5 x 2.8mm
Rod Type 2TG, 3TG Rods
Crankshaft 3TG, 3T, 13T
Includes Piston Ring, Pin, Snap Ring
---------------------------------
2TG Titanium Coated SPL Piston Rings Option
Superior wear by superior materials. Add $147.00 to price of piston kit.
These pistons are exclusively for the hemi-spherical combustion chamber. This cannot be used for the laser head type.
---

2TG High Strength Connecting Rod Set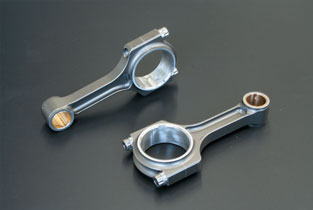 With the use of the strong lightweight chromoly material, the connecting rod significantly improves one of the weaknesses of the 2TG motor.
To decrease the burden on the bearings and increase responsiveness, the rod is weighing in at only 480g and has been designed to be lightweight.
Price
$2323.20 USD
Pin Diameter 21 (Full Flow Manufacturing)
Weight 480g (1 Set Within 1g Variance)
Manufacturing Method Forged + Machining
Material Chromoly (SCM440)
Heat Treatment Quenched and Tempered
Surface Heat Treatment Tuft Shot Peen
Hardness HRC32-36
Bolts APR (Rated 230,000-260,000psi)
---

2TG Super Strong Connecting Rod Bolts (for stock rods only)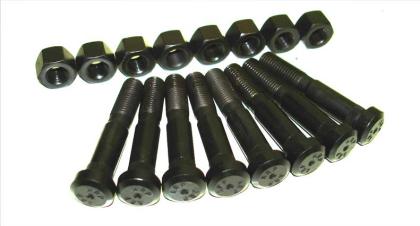 These High Performance series connecting rod bolts are made from seamless and defect free 8740 chromemoly steel. All rod bolts are heat treated before grinding and thread rolling, and have a large underhead radius for greater strength. Guaranteed to pass magnetic inspection testing, these bolts are nearly five times stronger than OEM bolts. They're used in applications ranging from stock replacement to Circle Track, marine, and drag racing engines.
Price $58.10


Specifications:


Cap Retention Style: Thru-bolt
Rod Bolt Head Style: A
Rod Bolt Nut Style: Hex
Fastener Yield Strength: (psi): 200,000 psi
Connecting Rod Bolt Material: 8740 chromemoly steel
Nuts Included: Yes
Quantity: Sold as a set of 8.
Fits: Toyota 2TC, 3TC, 2TG motors
---
NEW!!!

2TG Main Bearing Cap Bolts (OEM Type) $8.14 each

---
2TG Idler Tensioner Kit

This kit was not only designed as an improvement over original Toyota, but also because the
original Toyota
type timing components
(tensioner and curved / crescent shaped guides) are no longer available. This is you best solution!

Click here to see the installation instructions (PDF file).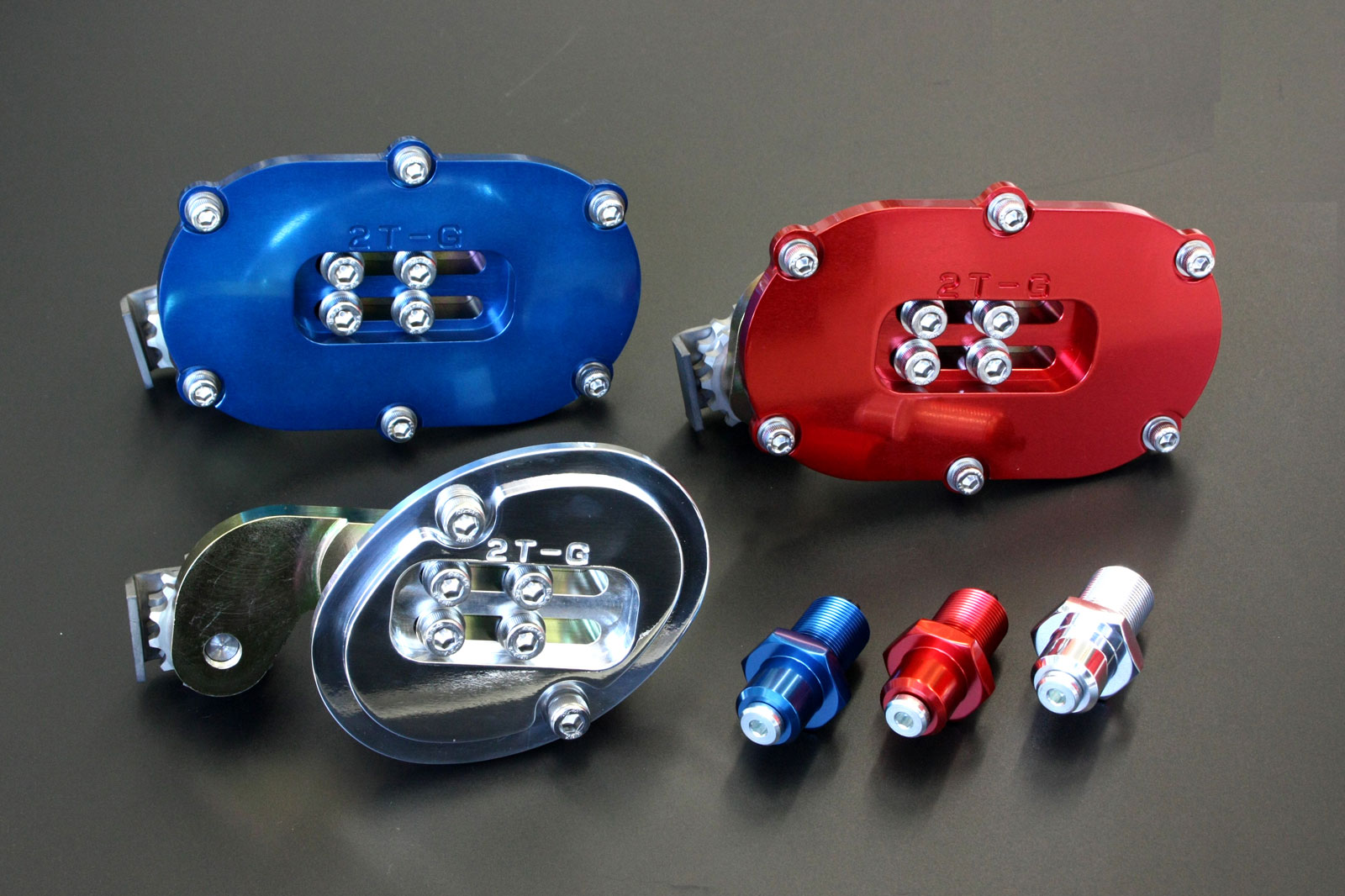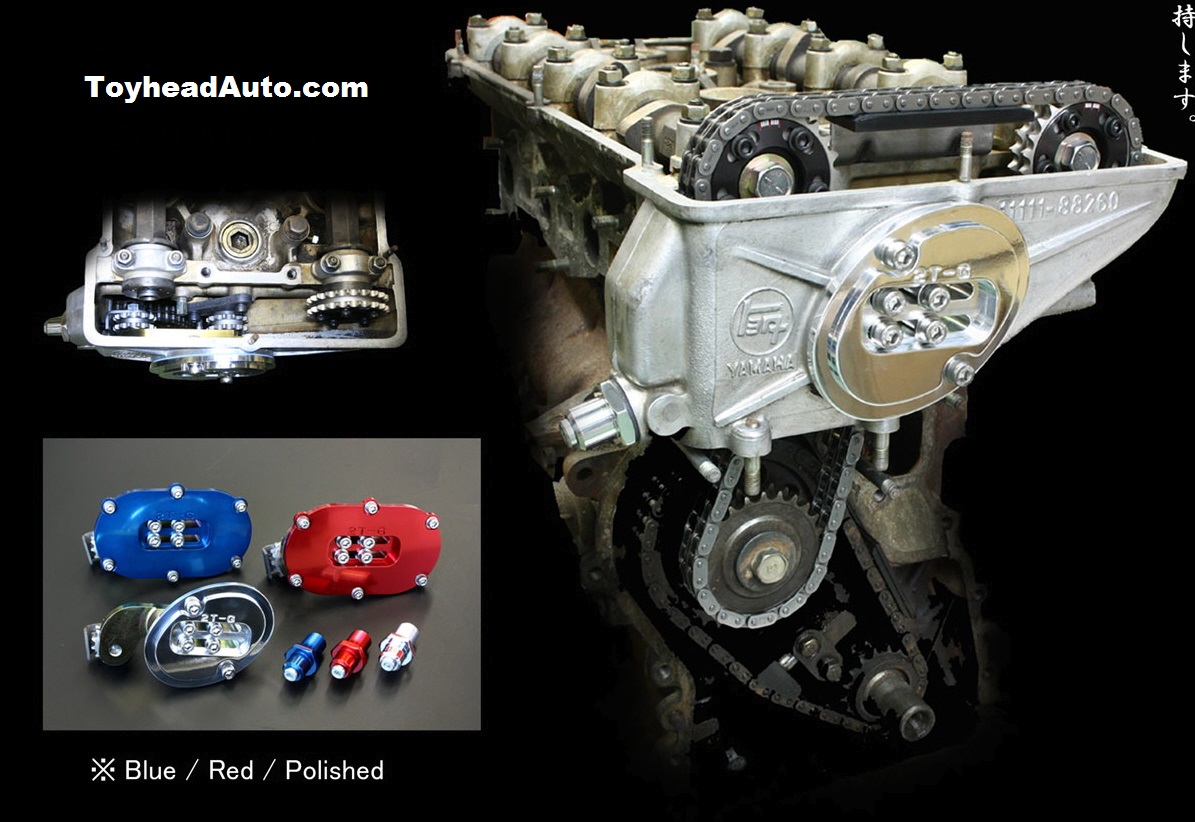 Just released!!
a new part for the Toyota 2TG engine, called the
"2TG IDLER TENSIONER".
This is available for both versions of the 2TG engine. It reduces friction, and allows for tension adjustment from the outside (via front 4 bolts).
Price
$616.00
USD
---
2TG Idler Gear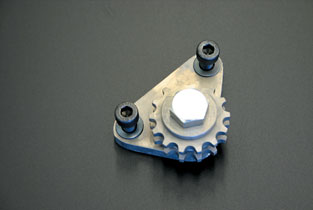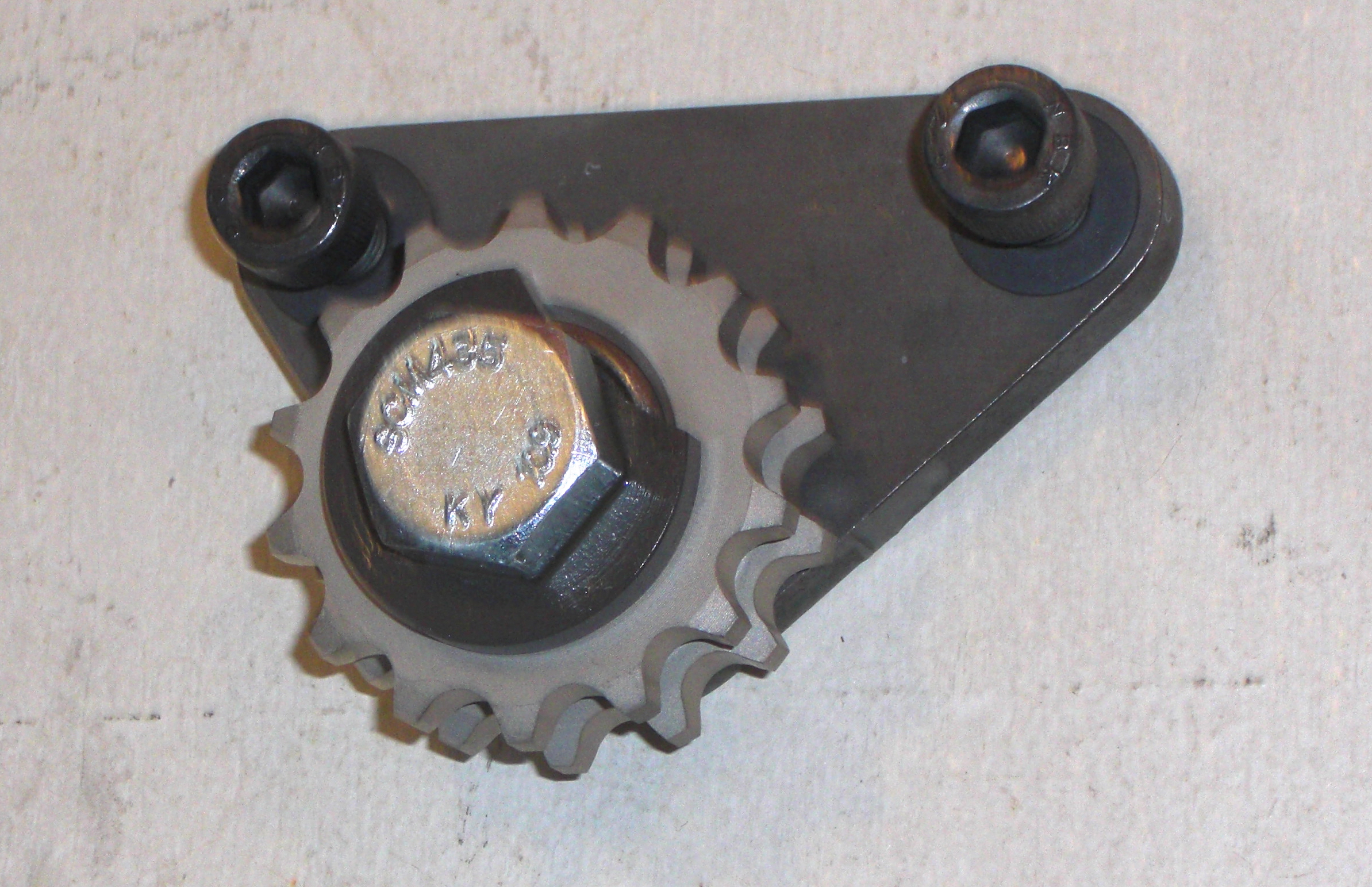 Using larger camshafts and upgraded valve springs places additional stress and wear on the timing chain. This leads to incorrect valve timing from the increased friction, which in turn reduces engine power. The Idler Gear solves this problem by replacing the stock chain guide with a needle roller bearing which reduces friction and stabilizes valve timing.
Price
$281.60 USD
---
2TG Gear Train Kit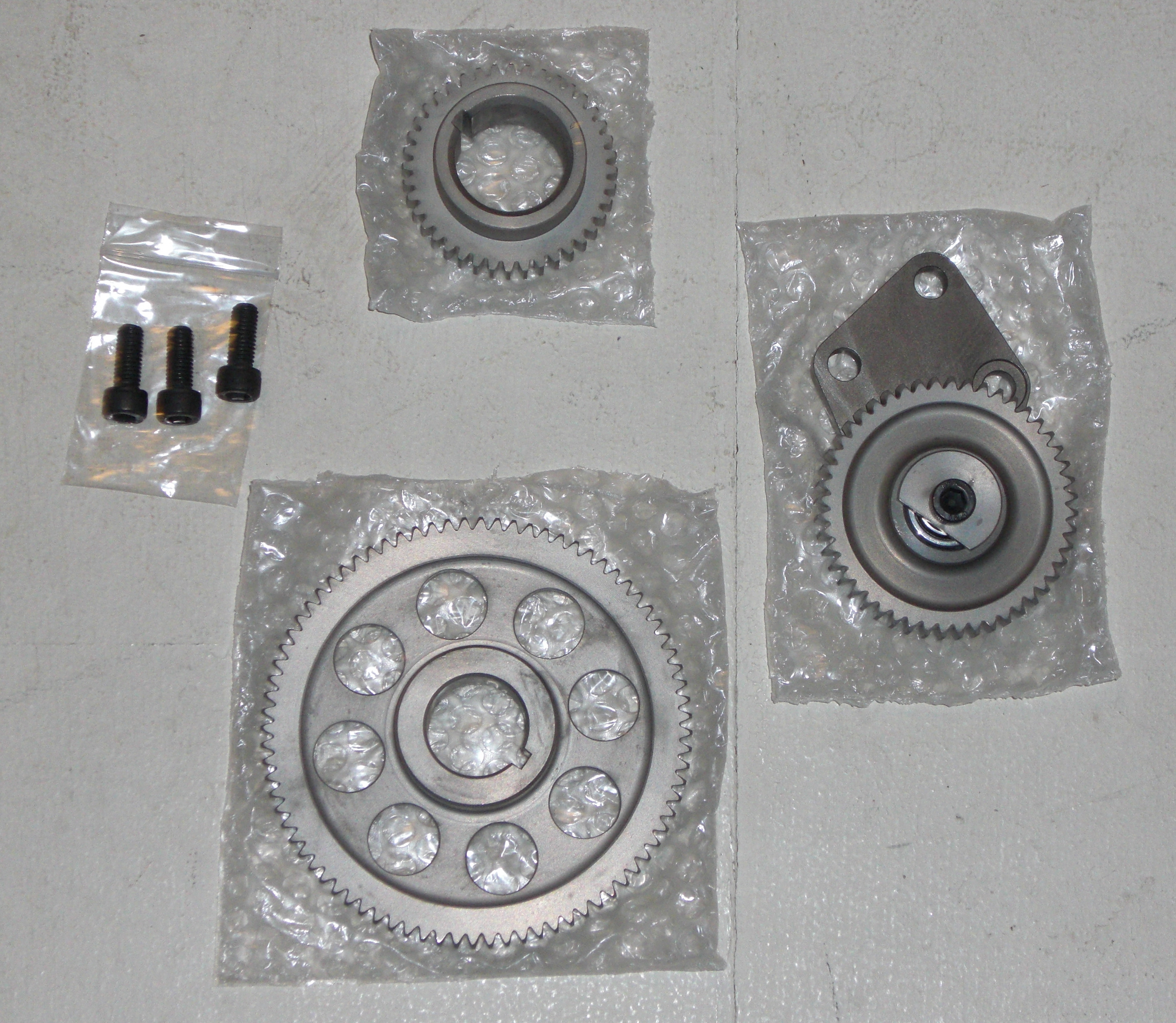 The proof of our credibility is in our many years of superior results and achievements with the Toyota 2TG engine!
For the ultimate in valve timing stability and lower friction, replace your timing chain with our three gear train set. Achieve ultra performance by making chain tensioner horsepower loss and timing problems, a thing of the past. Converts to a 3 gear setup on your 1# timing chain.
Eliminates stock hard to find timing parts, chains and guides that wear out quickly.
Price
: $1020.80 USD
Specifications:
Manufacturing Method: Machined
Material: Chromoly
Heat Treatment: Tuft Ride Surface Heat Treatment
Hardness: Interior HB241 - 277
Bearings: Needle Roller
---
2TG Timing Chains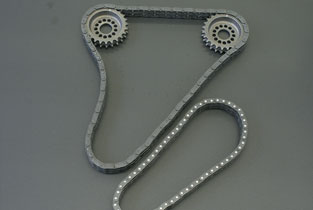 This head gasket is made to meet the demands and pressure of the high performance motor through
This reinforced timing chain has been permeated uniformly with a light coat of manganese phosphoric acid. This process makes the chain 4 times as resistant to wear! The chain also keeps the motor at peak performance by it's resistant to stretching from prolong use, which can lead to mistimed valves. This chain has stops heat seizing between the links by remaining flexible and reducing friction, to have a smooth flowing movement.
2TG Timing Chain (1st chain)
Price
$193.60 USD
2TG Timing Chain (2nd chain)
Price
$325.60 USD
---
2TG
, 3TG
Upper Top Chain Tensioner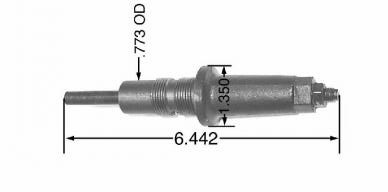 Upper Top Chain Tensioner
Price
$62.54 USD
---
2TG, 3TG Timing Chain Dampener / Guide


2TG, 3TG Timing Chain Dampener
Price
$40.17
---

2TG Cam Gears
are made from a heavy duty metal and put through the highest standards of machining and heat treatment, all while needing to pass a strict quality controlled inspection. The slide type has a two degree memory setting to easily and accurately adjust your valve timing. Replacing the knock pin is unnecessary for this gear, however please be careful not to drop the pin into the motor.
Two Types Available: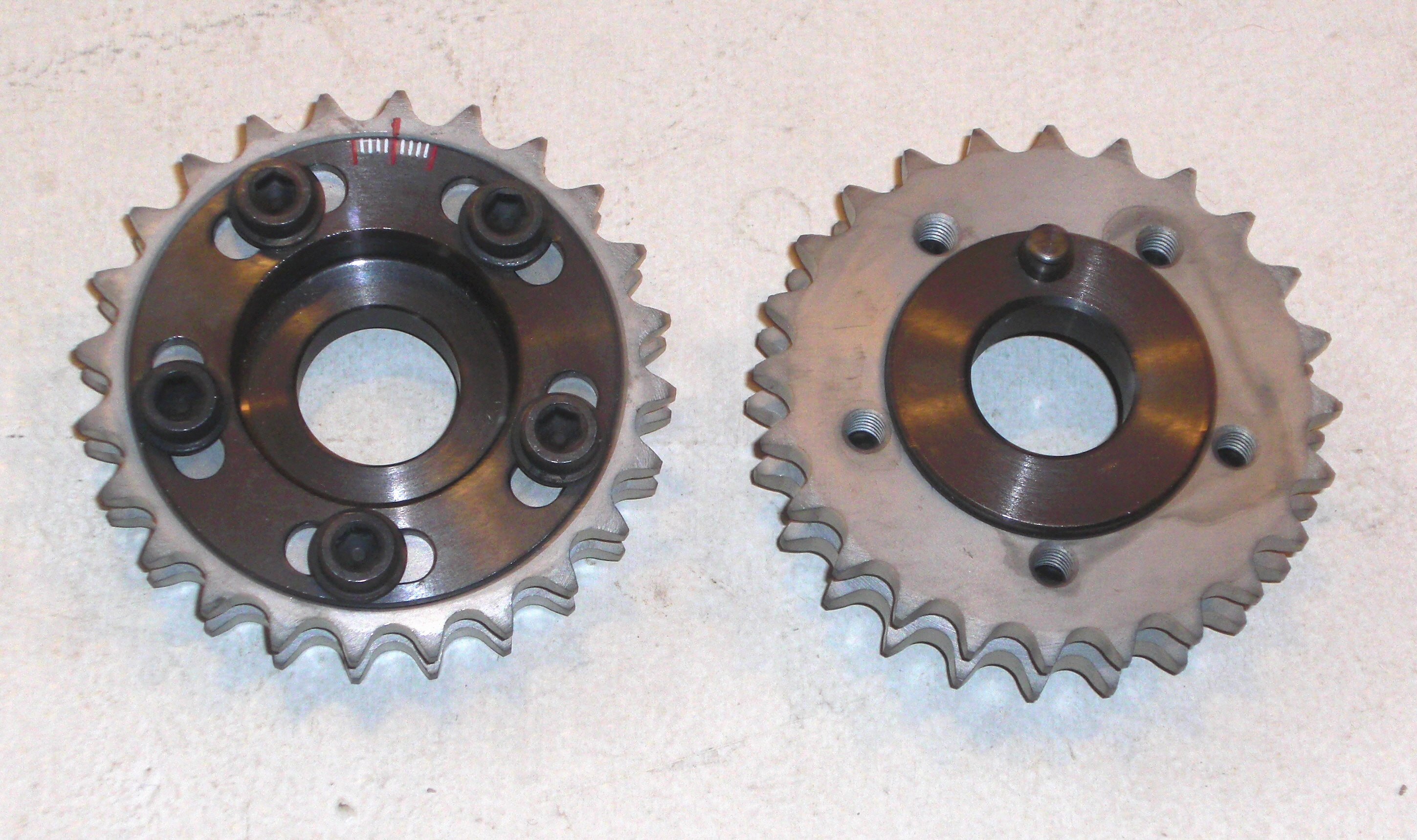 Fully Adjustable Type Cam pulley Set
$563.20 Pair

13 Hole Type For Timing Adjustment Set
$264.40 Pair
---

2TG Light Weight
Flywheels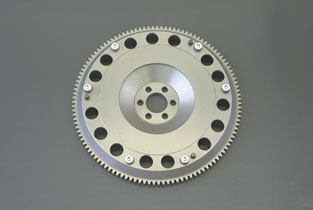 The best way to get the most response from your 2TG motor is through a lightweight flywheel.
The flywheel is made from the ultra durable and high strength SCM material in a slim lightweight design.
There are two flywheels to choose from depending on your application, the standard street type and the racing R type.
2TG Flywheel Street
, Weight 4.4kg
Price
$704.00 USD
Will not affect low end torque. For street use.
2TG Flywheel Race
, Weight 3.7kg
Price
$774.40 USD
Recommended for race use. Superior engine response.



Specifications:



Material: Chromoly
Surface Heat Treatment: Tuft Ride
-------------------------------------------------------------------
NEW LOWER PRICE!!!
2TG Flywheel Street
, Weight 4.4kg
Price
$363.98 USD
Will not affect low end torque. For street use.
Has replaceable clutch contact face. When it is worn out you simple replace the insert not the whole flywheel.
Our aluminum flywheels are made from the highest quality 6061 T6 aluminum. The material is fantastic for strength, heat dissipation and of course reduction in weight.
BODY
- 6061 T6 ALUMINUM Tolerances machined to +/- .001 6061 T6 has an ultimate tensile strength of at least 42,000 psi and a yield strength of at least 35,000 psi.
RING GEAR
- 1050 STEEL / HEAT TREATED Heat treated for durability. The gears are heated then pressed on and secured with grade 8 button screws.
Replacement Friction Plate Kit
- 1045 STEEL The friction surface we use is an incredibly strong 1045 steel.
The plates are milled to meet our high specifications.
Comes with eight button screws grade 8
Increased security helping fasten the ring gear to the flywheel and all other replacement hardware.
With these replaceable plates there is no need to replace the entire flywheel when the clutch
or flywheel is at the end of it's life, saving time and money.
Price
$59.00 USD
---
2TG Clutch disk and Clutch Cover / Pressure Plate Kit


RACING PRESSURE PLATE
The reinforced clutch cover handles high revving motors and lots of torque while increasing the power transfer from an upgraded diaphragm spring and high performance clutch.
RACING CLUTCH DISC
Better power transfer and quicker shifting result from the lightweight three puck design of the clutch. To handle the rigors of high performance motorsports, this clutch uses reinforced bolts and enhanced damper springs. The metal face makes this clutch very durable and with a responsive feel and good pedal pressure.
Price:
$1232.00 USD
-------------------------
Quality OEM Type Replacement Clutch Kit for 2TG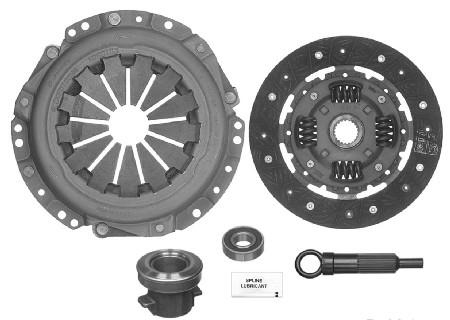 Comes with everything. Clutch, pressure plate, through out bearing,
alignment tool, pilot bearing and even grease!!


Price:
$150.00 USD
---
2TG Intake Manifold Kit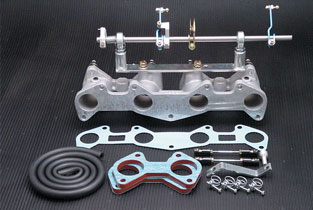 This performance intake manifold was designed with a larger cylinder diameter and made to be used with OER, Weber, Solex, Mikuni and other carburetors.
The smooth design of the ports allows increased airflow while tuning the carbs is easy with the wire type side linkage kit.

Price
$915.20 USD
---
Carburetors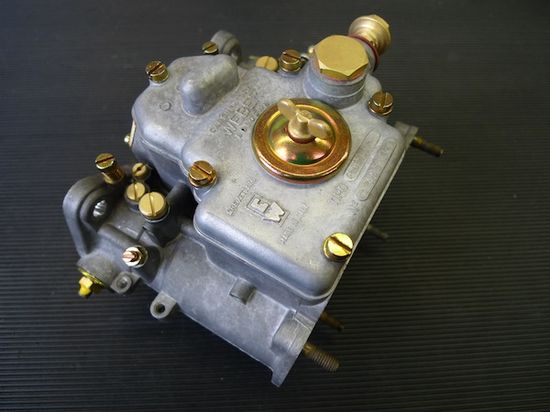 The DCOE Side draft carburetors are legends in motor sports history. With countless out standing auto motive applications over the years from standard factory issue carburetors found on cars like Ferrari and other exotics, to full out champion race cars from many decades in all types of racing.
New Lower Price !
!!
Weber 40 mm DCOE
single side draft carburetor $
432.00
each.
New Lower Price !
!!
Weber 45 mm DCOE
single side draft carburetor $
432.00
each.
---
2TG Spark Plug Wires
Quality High Performance Wires, 8 mm Thickness


These wires can handle up to 150,000 V

Price $264.00
---
NEVER CHANGE POINTS AGAIN!!!
2TG, 2TB Distributor
Conversion Kit
Ignition
Conversion kit to change from Old
Style Points to the more powerful Electronic upgraded system
Saves gas and extends the life of your spark plugs. Come with a magnetic pick up you screw inside the distributor.
This kit eliminates the unreliable points that ware and constantly change the ignition timing. With this kit you just set it and forget it!!!!
Its is easier to install than as a set of points but you only do it once! Entire ignition system fits beneath distributor cap to maintain original look.
No alteration to distributor required.
You can use a stock ignition coil with this kit but to get the most power from this kit we highly recommend to
upgrade to the Flame Thorougher Coil listed below.
Price $136.00
---
High Performance Ignition Coil 2TG, 2TB
The

F
lame-Thrower II
coils feature a super low resistance. They will work with just about any high output ignition system.
Low resistance and improved turns ratio help to produce up to
45,000 volts.
This higher voltage enables you to run larger spark plug gaps for added power and better fuel economy.
Features
45,000 volts
Available chrome plated or black for that "stock look".
For use with inductive or CD ignition systems.
Super low 0.6 Ohm primary resistance.
Legal in all 50 states and Canada. (C.A.R.B. E.O. #D-57-10)
Warranty: 90 Days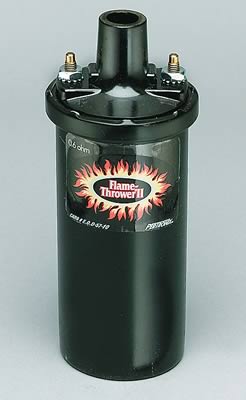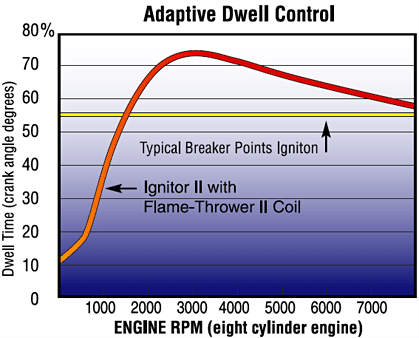 Price $67.35
---
2TG Distributor Cap and Rotor Kit.
Price $36.20
---
2TG Spark Plug Set




Spark Plug Set
(4) high performance. $24.44
---
2TG Thermostat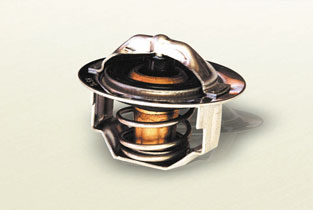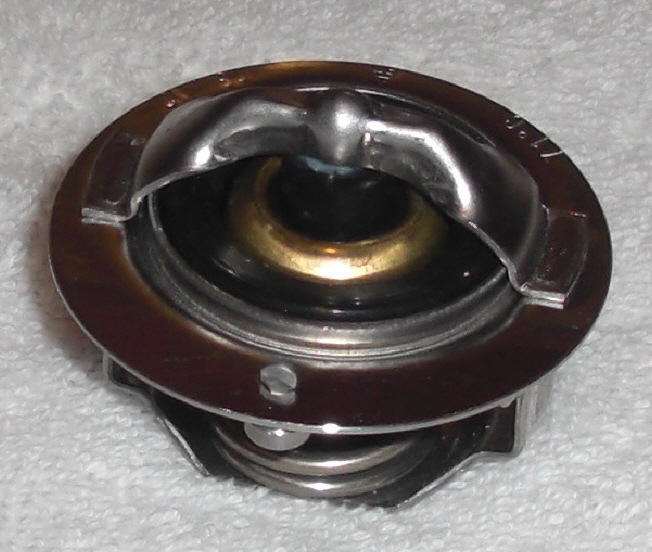 Born from racing technology!
71 Degrees Celsius Low Temp Stainless Thermostat
What is the optimum temperature to get the most power from the engine?
Different parts of the engine are at various coolant temperatures. For example, the temp gauge is reading at 80 degrees Celsius but at the back of the motor, it is between 85 and 90 degrees Celsius, which means it is detonating. The perfect temperature for optimum performance is the temperature right before detonation, measured at the cylinder. However, in order to achieve this temperature, it is absolutely necessary to have good cooling efficiency and a low temperature thermostat. The thermostat opens the valve at 71 degrees Celsius and allows the coolant to flow earlier to prevent overheating and bring out the maximum performance from the motor.
Price
$121.00
---
2TG Water Temperature Sending Unit.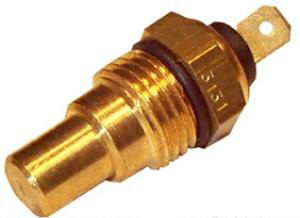 Water Temperature Sending Unit
$41.42
---
PERFORMANCE RADIATOR CAP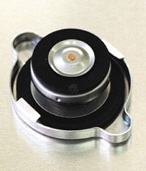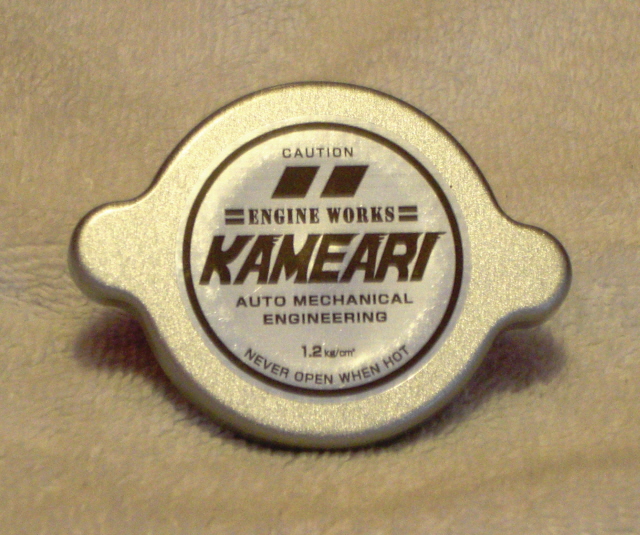 This radiator cap has an upgraded 1.2kg/cm ( 12 lbs )pressure valve spring, so that the maximum cooling potential is achieved from the radiator. For example, even though the coolant temperature is climbing over 100 degrees Celsius and the internal pressure of the radiator is high, the coolant will not boil over.
This radiator cap is good protection against overheating because stock will only hold up to 0.9kg/cm ( 8 lbs ) of pressure and the coolant will boil over at 125 degree Celsius.



Price

$45.00

---
<Back to 71-77 Celica page
< Back to Toyhead Auto Home Page